Classic closed-room drama: Sidney Lumet's '12 Angry Men'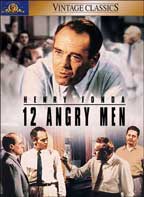 Sidney Lumet has been one of the most prolific and important American directors for over 40 years, and now MGM is preparing to bring his first feature film to DVD this March with the release of 12 Angry Men (1957).
Henry Fonda and Lee J. Cobb lead an incredible cast in this tense courtroom drama (actually a jury room drama) nominated for three Oscars including Best Picture—about one juror determined to sway the opinions of eleven others. This film has been copied and parodied so many times that you may feel like you've seen it before even if you haven't.
Directed by Sidney Lumet—whose list of credits reads like an honor roll of American filmmaking—the powerhouse cast includes Henry Fonda, E.G. Marshall, Lee J. Cobb, Martin Balsam, Jack Klugman, Jack Warden and John Fiedler.
The disc will include a widescreen transfer of the film, letterboxed at 1.66:1. Audio will be Dolby Digital Mono, in both English and French. Subtitles are available in Spanish and French. The only extra is the film's theatrical trailer.
'12 Angry Men' is scheduled for release on March 6th. It will carry a suggested retail price of $19.98.
What an exciting time this is, don't you think? With the long lists of catalog releases from the major studios lately, you owe it to yourself to check in with our Coming Releases section often. Aw heck, save yourself the time and just bookmark it…