Cameron Crowe tells about being 'Almost Famous'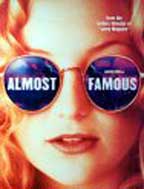 We've received word that DreamWorks is readying the DVD release of Almost Famous, the critically acclaimed biographical comedy of Cameron Crowe.
Based on his own experiences as a 15 year old journalist, Crowe tells the story of a young reporter who has the opportunity of a lifetime as he hits the road with his favorite band, Stillwater, and gets to sell the story to Rolling Stone Magazine. On the road he discovers the price of fame, the value of family and the limits of friendship.
Written and directed by Cameron Crowe, the movie stars Billy Crudup, Anna Paquin, Frances McDormand, Jason Lee, Patrick Fugit, and Kate Hudson.
The disc will contain an anamorphic widescreen transfer, with a Dolby Digital 5.1 Surround soundtrack. Extras include 30 minutes of never-before-seen footage, production notes, filmographies, biographies, and the film's theatrical trailer.
'Almost Famous' is scheduled for release on March 13th. The suggested retail price is $26.99.