Attention fans of José Mojica Marins: Coffin Joe is coming to DVD!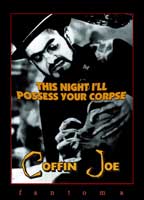 Frankenstein, Dracula, Freddy Krueger, Ze do Caixao. What? Mavens of bizarre and independent cinema smile with a mixture of delight and dread when the name of Ze do Caixao, better known as Coffin Joe, is mentioned. The first horror filmmaker from Brazil, José Mojica Marins has created some of the more notorious and delirious horror films ever made on a shoestring, and the gravedigger Coffin Joe is regarded as his on-screen alter ego.
And now, Fantoma Films, courtesy of Image Entertainment, will be bringing 3 of Marin's movies to DVD. Coming up will be At Midnight I'll Take Your Soul (the first appearance of Joe); This Night I'll Possess Your Corpse; and Awakening of the Beast.
All three of these films will have new widescreen transfers made directly from the original 35mm negatives, letterboxed at 1.66:1, and supervised by the director himself. Audio will be Dolby Digital Mono soundtracks. Extras will include new interviews with the cast and crew about the making of the films (which should be interesting, considering his notoriety for using live spiders and snakes with his actresses!), a replica of an original Coffin Joe comic book (a different comic with each disc), and each film's theatrical trailer.
These discs are scheduled for release on April 3rd. They will each carry a suggested retail price of $29.99.