Artisan to release 'Dr. T & The Women'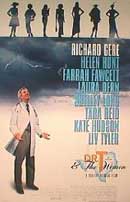 Just as I was ruing the fact that I missed my opportunity to see the film in theaters, we've just learned that Artisan Entertainment is preparing the DVD of Robert Altman's latest film, Dr. T & The Women, for release this February.
Richard Gere is Dr. T., a frantically overworked, socially-in-demand gynecologist whose life is coming apart at the seams. His wife has regressed into a child-like state, while one daughter is raising suspicions about the relationship between his soon-to-be-married other daughter and her maid of honor. Meanwhile, just as his champagne-loving sister-in-law arrives with three nieces in tow, the Dr. T. falls for the sexy new golf pro. As complications mount, the good doctor's life rapidly approaches the force of a Texas tornado.
Directed by the great Robert Altman, the film…as always with an Altman film…boasts an impressive cast that includes Richard Gere, Helen Hunt, Farrah Fawcett, Laura Dern, Shelley Long, Tara Reid, Kate Hudson, Liv Tyler, and Jani Vorwerk.
The disc will come with an anamorphic widescreen transfer of the movie, with a Dolby Digital 5.1 soundtrack in English, as well as a Dolby Mono track in French. Subtitles are available in Spanish. Bonus features include an audio commentary, production notes, cast and crew bios, interviews, the film's theatrical trailer as well as TV spots.
'Dr. T & The Women' is scheduled for release on February 6th, with a suggested retail price of $24.98.