An epic of swords and scandals: 'Demetrius And The Gladiators' comes to DVD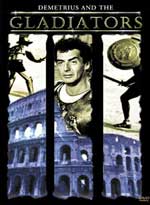 In order to compete with television in the fifties, Hollywood emphasized the benefits of the big screen by releasing films shot in widescreen format and featuring scads of scantily dressed extras. For a while there, you couldn't toss a stone without hitting a well-oiled star in a toga. Fun stuff. And now Fox Home Entertainment is readying the pulpy Demetrius and The Gladiators (1954), for release on DVD this February.
Rome, soon after the death of Christ. The depraved and mad Caligula is on the throne, obsessed with two things: the Robe, the garment that fell from Jesus' shoulders on the cross, and brutal gladiatorial displays. Victor Mature is Demetrius, the devout Christian entrusted with the Robe by Peter. But he turns his back on God, enters the arena, and becomes the most famous gladiator in Rome. Sharing the bed of the powerful and diabolical Messalina (Susan Hayward), he may even betray the Robe–and any hope he has for redemption…
Directed by Delmer Davies, the film stars Victor Mature, Susan Hayward Michael Rennie, Jay Robinson, Debra Paget, and Anne Bancroft.
For this DVD, Fox is preparing a 2.55:1 anamorphic widescreen transfer and will add a Dolby Digital 2-channel Surround sound track to the disc, as well as a few, so far unannounced, supplements.
'Demetrius And The Gladiators' is scheduled for release on February 27th. It will carry a suggested retail price of $24.98.