A&E to release "Thunderbirds" and "Catherine the Great"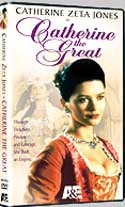 The good folks at A&E will be releasing a couple of interesting DVDs this coming February.
First up is the classic British TV puppet series, Thunderbirds, which was shown on American television in the mid-60s. The show is about an international rescue organization in the 21st Century (hey, that's this century now!) that uses very cool equipment designed to work on air, land, or sea to fight any crisis that might threaten the forces of good. Older readers may remember that the series was filmed in 'Supermarionation'!
The show will come in two sets of two discs apiece. Each set features six complete episodes, all of which have been remastered in Dolby Digital 5.1 Surround and keep their original full-frame aspect ratio. Extras include a 'making of' featurette on set one and a second 'Behind the Scenes' featurette on set 2.
Also coming to DVD will be Catherine the Great.
The beautiful Catherine Zeta Jones stars in this historical drama that portrays the rise of and rule of one of the most remarkable monarchs in history. An obscure, 15-year-old German princess brought to Russia by a bizarre twist of fate in 1744, she was wed to the nephew of Empress Elizabeth. The marriage was far from happy, and Catherine used courage, shrewdness and unbridled treachery to eventually triumph in an all-or-nothing struggle with her husband for the throne.
The disc will feature talent filmographies and comes in Dolby Digital Stereo and its original full-frame presentation.
All of these DVDs will be available on February 27. The suggested retail price for 'Catherine the Great' will be $19.95. The price on 'Thunderbirds' has yet to be announced.