A past vision of the future now in our past: 'Space 1999' comes to DVD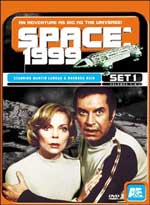 Fans of campy sci-fi will be pleased to hear that A&E Home Video is preparing a fun set of discs with Space 1999.
When Earth's moon is blasted out of orbit by a series of spectacular nuclear explosions the greatest adventure mankind has ever known begins for 311 men and women on Moonbase Alpha. Each episode is a fight for survival encountering bizarre life forms, unfathomed civilizations, hostile environments and mystic phenomena.
Admittedly, the cheesy production values and soap opera-like stories were an acquired taste, but this television show had a lot of fun elements going for it, not the least of which is Martin Landau and then-wife Barbara Bain, both of whom had worked together on the original 'Mission Impossible' series.
A&E will initially release 2 volumes, each as a 2-disc set, with each disc containing 3 episodes. Picture is presented in the original 1.33:1 aspect ratio with a Dolby Digital Mono soundtrack. The transfers have been digitally remastered from the original 35 mm elements and are presented complete and uncut for the first time – with as much as 12 minutes of additional footage not seen in areas of the U.S. during original broadcast release. A photo gallery is also included.
'Space 1999 Volumes 1 & 2' will be released on January 30th. Each set will have a suggested retail price of $39.95.