A great American actor has left us: Jason Robards has died at 78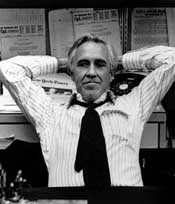 Two-time Oscar-winner Jason Robards, the flinty, craggy-faced star recognized during a half-century in show business as the consummate interpreter of playwright Eugene O'Neill has died at age 78. Robards, whose last big-screen role was as the dying father of Tom Cruise's character in 1999's 'Magnolia,' died at Bridgeport Hospital after a long battle with cancer, spokeswoman Sally Dalton said.
Born in Chicago while his father was on a stage tour, Robards attended Hollywood High School in Los Angeles. He later said he passed drama class only because he was a track star. He originally spurned acting, the profession of his father, the late Jason Robards Sr.—who was well known on both stage and screen—and instead joined the Navy to serve during the Second World War, earning the Navy Cross for valor. Inspired by reading plays in ship libraries, Robards in 1946 briefly studied acting before spending six years making a meager living in stock theater. In 1951, he became an understudy and assistant stage manager for 'Stalag 17' on Broadway and toured with the show in a small role.
He emerged seemingly out of nowhere with a star-making performance as Hickey in an acclaimed 1956 revival of O'Neill's 'The Iceman Cometh'. In 1999, Robards told The New York Times that he was ready to quit acting when he was offered the Hickey role: 'I had a few kids and a family and I was thinking I had to get another job,' he said. 'And then, at the last moment, this came through and my pipe dreams came true,' he said, in reference to the unfulfilled pipe dreams that haunted the characters in 'Iceman.'
He won more accolades for 'Long Day's Journey Into Night' and roles in Shakespeare. In 1958, he won a Tony award for playing a character resembling novelist F. Scott Fitzgerald in 'The Disenchanted' He was nominated for eight more Tony awards over his long career.
He made his film debut in 1959's 'The Journey,' followed by 'Tender is the Night' (1962) and the film versions of 'Long Day's Journey Into Night' (1962) and 'A Thousand Clowns'.
He won his first Academy Award as best supporting actor in the 1976 Watergate drama 'All the President's Men', in which he played Washington Post editor Ben Bradlee. His second, also for best supporting actor, came the following year for his role as Dashiell Hammett in the film Julia.
Broadway director Ellis Rabb, who worked with Robards, once called him 'the greatest American actor of his time.' 'Jason Robards can do anything … from O'Neill to light comedy to Shakespeare, a range we seldom see,' Rabb said.
Robards was honoured by President Clinton at the White House in 1999 for his contribution to American culture. Among the other celebrities present was pianist and comedian Victor Borge, who died last week.
Director Lanny Cotler worked with Robards in the 1998 film 'Heartwood', about the upheaval in California's redwood region. He said Robards inspired his young stars, including Hilary Swank, who won an Oscar for best actress the next year in Boys Don't Cry. 'He was the most experienced actor on our cast and was by far the most flexible and the most willing to just give of himself beyond the call of the duty,' Cotler said. 'It was just amazing to watch that man work.'
Actress Debbie Reynolds said that despite playing solemn roles, the actor harboured a secret ambition to be a song-and-dance man. 'He always wanted to do musicals,' she said. 'This great actor wanted to just kick it up.'
Mr. Robards is survived by his fourth wife, Lois O'Connor and six children, including actor Sam Robards, his son by ex-wife Lauren Bacall.