Warners will give us the Bird in January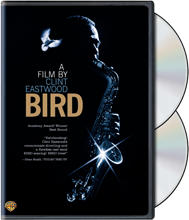 Warner Home Video is set to jazz things up a bit this coming January with some interesting releases of films that are Jazz-themed.
First up is Bird (1988).
This is Clint Eastwood's tribute to the late Charlie Parker, known as 'Yardbird' or 'Bird' to his friends and fans. Forest Whitaker stars as the great musician who died at the young age of 34 years old. Directed by Eastwood, other members of the cast include Michael Zelniker, Samuel E. Wright, Michael McGuire, Diane Venora, and the always intense Keith David.
Warners will release "Bird" with a widescreen print (no mention if it's anamorphic yet), with a Dolby Digital 5.1 soundtrack. A French language track is included, as are subtitles in English, French, Portuguese, Spanish. Bonus features include a music-only soundtrack, cast/director film highlights, and a trailer.
'Bird' is scheduled for release on January 30th with a suggested retail price of $19.98.