Warners is set to spread terror everywhere with 'Battlefield Earth'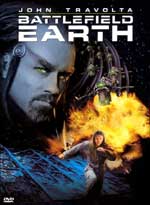 Warner Home Video is currently preparing to invade DVD players throughout the world with their upcoming release of Battlefield Earth this January.
Based on the multimillion-copy bestseller by L. Ron Hubbard, 'Battlefield Earth' takes place in the year 3000. John Travolta leads the alien captors of Earth against human freedom fighters struggling to take back the planet in this explosive, eye-popping science-fiction extravaganza.
Directed by Roger Christian (hmmm…), the movie stars John Travolta, Barry Pepper, Forest Whitaker, Kim Coates, Richard Tyson, Sabine Karsenti, and Michael Byrne.
The disc will come with an anamorphic widescreen transfer, letterboxed at 2.35:1, with a Dolby Digital 5.1 soundtrack. Extras include an audio commentary by director Roger Christian and production designer Patrick Tatopoulos, a 'making of' featurette, a documentary, behind-the-scenes footage, storyboards, cast/director highlights, theatrical trailers, and TV spots.
'Battlefield Earth' is scheduled to arrive on January 16th. It will sport the intelligently low suggested retail price of $19.98.
Though this big-budget project laid a bomb that would dwarf even an exploding DeathStar, the movie might see renewed life on DVD. It does have a few ardent admirers and is attaining a kind of cult status usually reserved for the likes of 'Heaven's Gate' and 'Ishtar'. Should be fun in any case…