Warner set to release 'The Exorcist: The Version You Never Saw' in December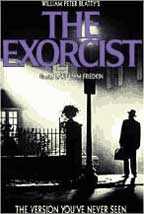 Warner Home Video has announced the DVD release of The Exorcist: The Version You Never Saw, for December.
Re-released to theatres earlier this year, director William Friedkin and writer William Peter Blatty collaborated to restore eleven minutes of footage not seen in the original release. Some additional digital enhancements were made as well, including a completely remixed digital soundtrack.
Although previously released on DVD on two occasions (including a terrific Special Edition release), this new DVD release is scheduled to include an all-new anamorphic widescreen transfer, letterboxed at 1.85:1, as well as a new Dolby Digital Surround EX soundtrack. Bonuses include an all-new audio commentary track by director William Friedkin, along with cast & director film highlights and a series of trailers, TV & radio spots. No other extras have not yet been announced.
'The Exorcist: The Version You Never Saw' is scheduled for release on December 26th… exactly 26 years after its initial theatrical release on the day after Christmas in 1974. The suggested retail price will be $24.98.