Warner Home Video has scheduled more Scooby-Doo for March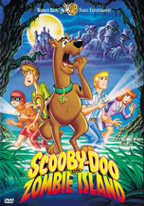 Repromoting their entire Scooby-Doo line in March, Warner Home Video has also scheduled the release of two more movies based on the classic the TV series. Scheduled for release on March 6, we get to see super-sleuth Scooby and his friends from Mystery Inc, in Scooby-Doo & The Witch's Ghost and Scooby-Doo on Zombie Island
In the all-new feature "Scooby-Doo & The Witch's Ghost", join Scooby-Doo and the Gang as they set out on their most spellbinding adventure ever! When world-famous horror writer Ben Ravencroft tracks down the Mystery Inc. team to figure out why a ghost has decided to haunt his hometown's popular Autumn Harvest festival, suspicious spirits are only the beginning! Before long, Scooby, Shaggy, Velma, Daphne and Fred find themselves delving dangerously deep into Ravencroft's family secrets. Was his beloved ancestor Sarah a kindhearted healer, or an evil witch whose legacy now threatens the town…and maybe even the world? With out-of-this-world excitement, spine-tingling thrills and supernatural fun, follow Scooby, Shaggy and the rest of the gang through every hilariously hair-raising twist of their all-new animated feature to find out!
In "Scooby-Doo on Zombie Island" Scooby-Doo, Shaggy, Velma, Daphne and Fred reunite to solve the most frightfully funny mystery of their careers. The scream team's headed to a haunted bayou island to investigate the ghost of Moonscar the Pirate. But it turns out the swashbuckler's spirit isn't the only creepy character on the island.
Both titles will carry a suggested retail price of $19.98 and contain a number of cool features.