US Manga expands on its Anime line with three new titles in February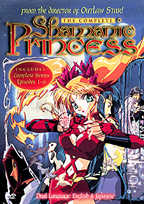 US Manga is lining up some hot new Anime releases for February. On February 13, the publisher will release DVD versions of Urotsukidoji IV: Inferno Road, Sprite: Between Two Worlds and The Complete Shamanic Princess.
"Urotsukidoji IV: Inferno Road" is an erotic horror Anime that is not for minors! t is the Age of the Overfiend, and flesh-hungry monsters rule the Earth. Immortal half-demon Amano Jyaku travels the wasteland, witness to the rape and torture of the human race. The last hope for humanity is the Lord of Chaos, the Overfiend's natural enemy. Will the world survive their final battle?
"Sprite: Between Two Worlds" is also an erotic action adventure, in which shy Manami has been flirting outrageously and sparking vicious catfights! Afterwards, she remembers nothing. Can it be that another personality seethes beneath her own – a wild woman who'll do anything to find trouble?
"The Complete Shamanic Princess" comes from Mitsuru Hongo, the director of Outlaw Star with character designs by Atsuko Ishida. All 6 episodes will be on the DVD, telling the story of Tiara. To retrieve the talisman stolen by her beloved, Tiara hunts the night, battling monsters with her awesome shamanic powers!
The DVD will also contain information about the characters, the artists and also feature the series' original Japanese trailers.
All titles are scheduled for release on February 13 ad carry a suggested retail price of $29.99.