The original cult classic, 'Gone in 60 Seconds' comes to DVD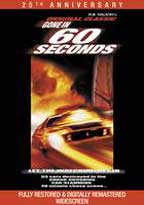 Those of you waiting to get your hands on the remake may want to take a good look at the classic cult film that started it all when H.B. Halicki Productions releases Gone in 60 Seconds (1974). The DVD comes to us this November…two weeks before the remake appears.
Written, directed by, and starring H.B. 'Toby' Halicki, this movie was almost impossible to find for years. A runaway theatrical hit in 1974, 'Gone in 60 Seconds' defined the genre of the car chase film and became an instant classic. The Assignment: to steal 48 luxury cars and sport vehicles. The Challenge: avoid getting caught! When the cops finally catch up with master thief Pace Maindrain, he rocks them through a 40-minute full-throttle chase, wrecking half of Los Angeles making his escape. With unstoppable action and edge of your seat suspense, 'Gone In 60 Seconds' slams you on a rocket ride you`ll never forget!
The movie has been fully restored and digitally remastered with a brand new widescreen print. Extras include never before seen footage, an audio commentary, interviews, and trailers.
'Gone In 60 Seconds' is scheduled for release on November 28th. It will have a suggested retail price of $24.95.
Make sure you catch it before it's…wait for it!…gone in 60 seconds.