'The Lost Weekend' finds its way to DVD in February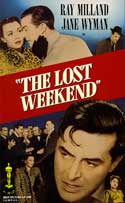 More and more classic films are making their way to DVD lately, and Universal Home Video continues the trend by bringing the multiple-Oscar-winning film The Lost Weekend (1945) to DVD this coming February.
Directed by the great Billy Wilder, 'The Lost Weekend' tells the harrowing story of a man's descent into the hell of alcoholism. Daring in its day, the film won several Academy Awards including Best Picture, Best Director, Best Screenplay, and Best Actor for the film's star, Ray Milland. The other actors in the terrific cast include Phillip Terry, Doris Dowling, Frank Faylen, Jane Wyman, and Howard da Silva.
Universal will present the film in its original Full Frame aspect ratio, with a Dolby Digital Mono soundtrack. Subtitles are available in French and Spanish. Extras include production info, cast and crew biographies, and the film's theatrical trailer.
'The Lost Weekend' will be available on February 6th. The suggested retail price will be $29.98.