The dangerously titled 'Steal This Movie' comes to DVD this January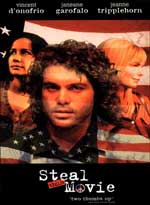 Trimark Pictures hopes people won't take them too literally when they release Steal This Movie to DVD in January.
Based on the books 'To America With Love: Letters From the Underground' by Abbie and Anita Hoffman, and 'Abbie Hoffman American Rebel' by Marty Jezer, this is a unique insight into the life of activist and radical Abbie Hoffman. Hoffman spent much of his life battling for social justice and the movie journeys with him through the maze of music and politics that defined the late sixties and early seventies. The title of the movie comes from a book that Hoffman wrote in the late sixties called 'Steal This Book' (of which many of us were proud young owners…paid for, of course…).
Directed by Robert Greenwald, the movie stars Vincent D'Onofrio, Janeane Garofalo, Jeanne Tripplehorn, Kevin Pollak, Donal Logue, and Kevin Corrigan.
'Steal This Movie' comes to us in a widescreen print, with a Dolby Digital 5.1 soundtrack. Subtitles are available in English, French, and Spanish. Multiple extras include an audio commentary by Greenwald, D'Onofrio, and Garofalo, a 'making of' featurette, storyboard-to-film comparisons, production artwork, 'Pig for President' spots; music promos, interviews, a Ringo Starr music video, and the film's theatrical trailer.
Trimark plans to release 'Steal This Movie' on January 23rd with a suggested retail price of $24.99.
Just don't…you know…