Still demented after all these years: John Waters brings us 'Cecil B. Demented'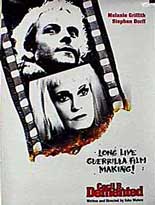 Those of you with a taste for the tasteless…of course this means John Waters fans the world over…get ready for the Baltimore director's newest work this coming January when Artisan Entertainment brings Cecil B. Demented to DVD.
The plot is fertile ground for the most independent of American independent directors: a lunatic indie-film director and his renegade group of teenage film makers kidnap an A-list Hollywood actress and force her to star in their underground film.
Artisan will bring 'Cecil B. Demented' to disc with an anamorphic widescreen transfer and Dolby Digital 5.1 Surround soundtrack. Quite a leap forward from the production values of 'Multiple Maniacs', eh? Extras include an audio commentary, production notes, and a trailer.
'Cecil B. Demented' will be available on January 23rd. The suggested retail price is $24.98.