Sci Fi Channel's most popular series, 'Farscape', coming to DVD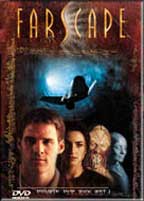 ADV Films, in conjunction with The Jim Henson Company, has announced the DVD release of the sci-fi series Farscape, the top rated program on the Sci Fi Channel.
The series follows the adventures of astronaut John Crichton , who joins a motley band of escaped renegades traversing the universe in Moya, a living ship. His companions include estranged military Peacekeeper Aeryn Sun , brutish alien warrior D'Argo , mystical high priestess Zhaan, Rygel XVI-Hynerian Dominar, and the impetuous Chiana. Unwillingly bound together, Moya's crew must put their differences aside and attempt to evade Captain Crais, a vengeful hunter.
The series stars Ben Browder, Claudia Black, Lani Tupu, Anthony Simcoe, Virginia Hey, and the voice of Tim Mieville.
The first 'Farscape' disc contains 2 episodes: Premiere & I, E.T. The episodes are presented full frame, with a choice of both Dolby Digital 5.1 Surround and Dolby 2.0 audio tracks. Extras include audio commentary, actor profiles, image galleries, and a 'Making of a Space Opera' featurette.
The DVD is scheduled for release on February 6, 2001. No price has been announced yet.