"Round Midnight" & "Thelonius Monk: Straight, No Chaser"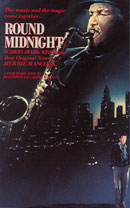 Rounding out the Jazz-themed DVDs from Warner Home Video, we have a couple of other interesting offerings:
Round Midnight (Special Edition) (1986), is director Bertrand Tavernier's loving ode to jazz and its creators. Dexter Gordon captured an Oscar Nomination as an expatriate musician in 1959 Paris. Herbie Hancock's superb music score won an Academy Award.
Warners has prepared a widescreen print, with a Dolby Digital 5.1 soundtrack. A French language track is included, as are subtitles in English, French, Portuguese, Spanish. Bonus features include an audio commentary by Tavernier, cast/director career highlights, and a trailer.
Thelonius Monk: Straight, No Chaser (1989), is a document of one of the great innovators in modern jazz. Rare footage of studio sessions and road tours is intercut with interviews with members of Monk's family and his associates.
The disc will contain a full frame transfer of the movie…no details yet about the soundtrack. Extras include career highlights of Monk and the filmmakers, and the film's trailer.
Both of these discs are scheduled for release on January 30th. They will have a suggested retail price of $19.98.