Pay a visit to an interesting "Place Without Limits"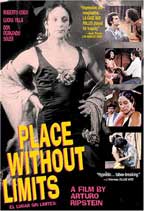 For those looking for something out of the ordinary, look no further than World Artist's coming DVD release of Place Without Limits.
La Manuela is a transvestite who lives in a brothel run by his daughter. When macho truck driver Pancho threatens his daughter, Manuela slips into his highest heels and most gorgeous Flamenco dress and performs an erotic dance in the hopes of diverting Pancho's attention.
This landmark film from Mexican director Arturo Ripstein explores machismo and homophobia in Latin America through the bittersweet story of La Manuela. Highlighted by Roberto Cobo's ground-breaking performance, 'Place Without Limits' (El Lugar Sin Limites) has become one of the most internationally popular contemporary Mexican films.
The film has been re-mastered in widescreen format—letterboxed at 1.85:1—from the original 35mm negative, supervised by director Ripstein, and is presented in a new English translation with yellow English subtitles. There are no details available on sound and there appear to be no extras, but this is one that is definitely worth a look for the adventurous film lover.
Place Without Limits will be available on January 16th, with a suggested retail price of $29.95.