Paramount goes long with: "Necessary Roughness" & "North Dallas Forty"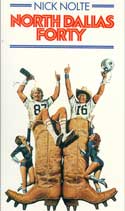 Paramount Pictures Home Entertainment plans the timely release on DVD of 2 football comedies, just in time for the Super Bowl: Necessary Roughness & North Dallas Forty. Here are some of the details:
North Dallas Forty (1979)
This is the semi-fictional account of life as a professional Football American player. A raucous comedy, it's loosely based on the Dallas Cowboys team of the early 1970s.
Directed by Ted Kotcheff, the cast includes Nick Nolte, Marshall Colt, Mac Davis, Charles Durning, Dayle Haddon, Bo Svenson, Steve Forrest, G.D. Spradlin, and Dabney Coleman.
Necessary Roughness (1991)
Due to NCAA sanctions, the Texas State University Fightin' Armadillos must form a football team from their actual student body, with no scholarships to help, to play their football schedule. With fewer players than most teams, the makeshift team must overcome obstacles that the best teams in the country couldn't deal with. Using a 34 year old quarterback, a female placekicker and a gang of misfits, Ed 'Straight Arrow' Genero must take his team to play the number one Texas Colts.
Directed by Stan Dragoti, the cast includes Scott Bakula, Andrew Bryniarski, Duane Davis, Kathy Ireland, Hector Elizondo, Robert Loggia, Harley Jane Kozak, Larry Miller, Sinbad, Rob Schneider, and Jason Bateman.
Both discs will have anamorphic widescreen transfers of their respective films as well as Dolby Digital 5.1 Surround audio. As of this time, no extras have been announced.
Both 'North Dallas Forty' and 'Necessary Roughness' are scheduled for release on January 30th, just in time for Super Bowl Sunday. They will each have a suggested retail price of $24.99.