Paramount adds 'The Longest Yard' to it's Super Bowl release scedule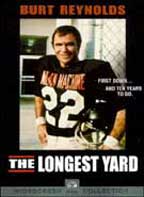 Two days ago we reported that Paramount Pictures Home Entertainment will be releasing 2 football films, North Dallas Forty, and Necessary Roughness to DVD in time for The Super Bowl. Well, we've just learned that they've added another football movie to the release date, and this one happens to be a personal favorite: The Longest Yard (1974).
Burt Reynolds stars as a football player-turned-convict who organizes a team of inmates to play against a team of prison guards. Conflicts arise when the warden (the wonderful Eddie Albert) asks him to throw the game in return for an early release. Featuring one of the greatest down-and-dirty football games ever filmed, this is one of Reynold's best roles, and shows why he was such a huge star in the 70s.
Directed by the too often under-appreciated Robert Aldrich, the film stars Burt Reynolds, Eddie Albert, Ed Lauter, Michael Conrad, James Hampton, Harry Caesar, Charles Tyner, and Mike Henry.
Paramount is preparing an anamorphic widescreen transfer of the film with Dolby Digital Mono audio. Unfortunately, no extras seem to be scheduled for inclusion.
As with the other football-themed releases from Paramount, 'The Longest Yard' is scheduled for release on January 30th and will carry a suggested retail price of $24.99.