MGM brings us 'Crime And Punishment In Suburbia'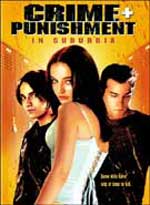 Dust off your Dostoyevsky, MGM Home Entertainment is preparing the DVD of Crime And Punishment In Suburbia for release in January.
This darkly humorous psychological thriller is loosely based on the classic Russian novel 'Crime and Punishment'. A troubled teen decides that it's time to put an end to the abuse from her alcoholic stepfather by brutally killing him. But guilt overcomes her…when her innocent Mom takes the rap!
Directed by Rob Schmidt, the film stars Ellen Barkin, Nonica Keena, Michael Ironside, Vincent Kartheiser, Jeffrey Wright, and James DeBello.
The disc will come with a widescreen transfer, enhanced for 16×9 TVs, as well as a Pan and Scan version. Sound is Dolby 2-channel Surround, available in English, French, and Spanish. French and Spanish subtitles are included as well. An audio commentary by Rob Schmidt and Michael Ironside is included as a bonus feature.
'Crime And Punishment In Suburbia' will be available on January 2nd. It will have a suggested retail price of $24.98.