Jim Carrey joins Jim Carrey in "Me, Myself and Irene"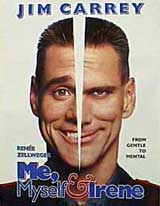 Always pushing the edge of the envelope, The Farrelly brothers attempted to mine the comic possibilities inherent in shizophrenia with Me, Myself and Irene, and Twentieth Century Fox Home Entertainment is preparing the DVD for release in January.
Jim Carrey plays a Rhode Island State Trooper named Charlie who has a multiple personality disorder. One personality is crazy and aggressive, while the other is more friendly and laid back. Both of these personalities fall in love with the same woman (named Irene, but you figured that out, didn't you?) after Charlie loses his medication. They end up fighting each other for her hand.
Directed by Bobby and Peter Farrelly, who, along with Mike Cerrone, also wrote the script, the film also stars Renée Zellweger, Chris Cooper, and Robert Foster.
'Me, Myself and Irene' will come to disc with an anamorphic widescreen transfer, framed in the film's original aspect ratio of 1.85:1. Both Dolby Digital 5.1 and 2.0 soundtracks will be included, as well as a Dolby 2.0 track in French. Fox plans many bonus features, which will include an audio commentary from Bobby and Peter Farrelly, deleted scenes (also with commentary), the Foo Fighters music video 'Breakout', vignettes of the Farrelly Brothers taken during the making of the movie, a behind-the-scenes featurette, theatrical trailers, television spots, and English and Spanish subtitles.
The DVD is scheduled to be released on January 23rd, with a suggested retail price of $26.98.