Image to reissue Mario Bava classic: "Twitch of the Death Nerve"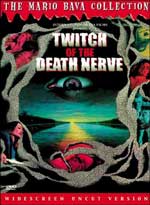 For those fans of the great Mario Bava who've suffered with that badly done DVD of "Bay of Blood", take heart. Image Entertainment is going to have a go at the film with their upcoming release in the film's original title Twitch of the Death Nerve.
Cited by many as the original "inspiration" for Friday the 13th, a lot of fans consider this one of the Maestro's best. Also known as "Bay Of Blood" and "Carnage", this is the story of Countess Federica, the elderly owner of a coveted piece of bayside property, who is brutally slain by her husband-who is himself killed by a mysterious third person at the murder scene! Who is the killer? Could it be the real estate developer or the entomologist neighbor who wants to preserve the natural insect life thriving around the bay? Perhaps the Countess's illegitimate son, in a bid to claim a name for himself, is responsible? Whoever it is, brace yourself, because no one's a suspect for very long in Mario Bava's black comedy of human greed-which boasts 13 characters and 13 of the most shocking murders ever filmed!
The disc will contain an anamorphic widescreen transfer, letterboxed at 1.77:1. Sound will be Dolby Digital Mono. Unfortunately, the only available language is an English dub. Extras include a Mario Bava biography and liner notes by Tim Lucas, a Bava filmography, photo and poster gallery, and the theatrical trailer as well as trailers for other Bava titles.
"Twitch of the Death Nerve" is scheduled for release on January 2nd with a suggested retail price of $24.99.
Hey, at least you've got to love this cover…