Evildoers beware—the noir avian avenger is back in "The Crow: Salvation"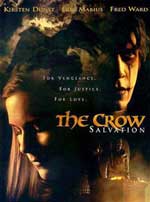 Buena Vista Home Video is set to unleash the powers of revenge on the world once again with the release of the The Crow: Salvation to DVD this January.
Alex Corvis (Eric Mabius) is wrongly convicted and executed for the brutal murder of his girlfriend. He returns from the dead under the guidance of The Crow and along with his girlfriend's sister (Kirsten Dunst), sets out to find the real killer. Along the way he unmasks a web of corruption and deceit within the police department and the city.
'The Crow: Salvation', the newest adventure of the dark, heroic figure of the night, was directed by newcomer Bharat Nalluri. It stars Kirsten Dunst, Eric Mabius, Jodi Lyn O'Keefe, William Atherton, Fred Ward, Debbie Fan, and Grant Shaud.
Buena Vista will present the movie in an anamorphic widescreen transfer, framed in the film's original aspect ratio of 1.85:1. Audio will be a Dolby Digital 5.1 surround track. Bonus features include an audio commentary, a 'making of' featurette, and behind-the-scenes footage.
'The Crow: Salvation' is scheduled to swoop down onto shelves on January 16th. It will sport a suggested retail price of $29.99.