Everyone's "Friends" are coming to DVD in December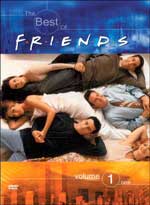 One of the most popular American sitcoms of all time is coming to DVD in time for the holidays when Warner Home Video releases The Best of Friends.
'Friends' is the weekly situation comedy about six, uh, well, friends who live in New York City and help each other navigate the perilous world of relationships and coffee houses.
The series stars Jennifer Aniston, Matthew Perry, Courtney Cox-Arquette, Matt LeBlanc, David Schwimmer, and Lisa Kudrow.
Warners will initially release the program on two discs, each featuring 5 episodes of the popular program as voted by fans and the series' creators. The discs will contain full frame transfers of each episode, with Dolby Digital 5.0 Surround audio. Extras on each disc include never-before-seen footage, the music video to the show's theme song, two behind the scenes featurettes and cast profiles.
'The Best of Friends' will be there for you on December 19th, with a suggested retail price of $19.98.