Dreamwork Home Video unveils What Lies Beneath in January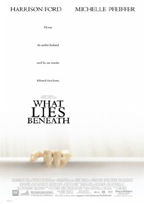 Dreamworks Home Video has just unveiled the details about the upcoming release of What Lies Beneath. Scheduled for release on January 30, this thriller starring Harrison Ford, Michelle Pfeiffer, and James Remar will carry a suggested retail price of $26.99 and contian a number of extras alongside the feature presentation.
A year ago, Dr. Norman Spencer betrayed his beautiful wife Claire. But the affair is over and Claire's oblivious to the truth; Norman's life and marriage seem perfect – so perfect that when Claire tells him she's hearing mysterious voices and seeing a young woman's wraithlike image in their home, he dismisses her mounting terror as delusion. However, as Claire moves closer to the truth, it becomes clear that this apparition will not be dismissed, and has come back for Dr. Norman Spencer – and his beautiful wife.
"What Lies Beneath" will feature a 16×9 enhanced widescreen transfer and come with a 5.1 channel Dolby Digital audio track. The DVD also contains a running length commentary track by director Robert Zemeckis as well as the HBO First Look "Making Of" Featurette for the film. The theatrical trailer, Production notes and biographies round out this chilling package.