Columbia TriStar brings the wonders of Cirque Du Soleil's Dralion to life on DVD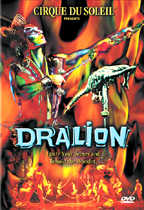 Following the successful release of Cirque du Soleil's first award-winning filmed stage show production Quidam, on January 23, Columbia TriStar Home Video will release the world renowned circus troupe's latest breathtaking production Dralion on DVD.
"Dralion" is the fusion of ancient Chinese circus tradition and the avant-garde approach of Cirque du Soleil, a contemporary collage of the original and the eclectic, the primitive and the postmodern. "Dralion" is the celebration of life and the four elements that maintain the natural order: air, earth, water and fire. By propelling these four pillars of the universe into a futuristic dimension, "Dralion" is a dynamic performance that seems to transcend the boundaries of the imagination and lead us into a dreamscape with a new and sparkling perspective.
The DVD will feature a sparkling anamorphic widescreen presentation of the show in its original 1.78:1 widescreen aspect ratio and feature a Dolby Digital 5.1 presentation. The disc will also contain a "Making Of" Featurette as well as Multi-Angle Performances and Production Notes and will carry a suggested retail price of $24.95.
Additionally, Columbia TriStar Home Video will release a double-pack DVD, containing the previously released Quidam and Dralion together for only $39.95.
If you haven't experienced it, now is the time to catch the magic! It is an experience you will never forget.