Columbia to release some truly Great Films in their new Classics Series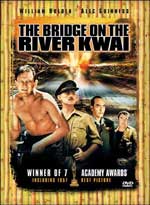 Columbia TriStar Home Video is going to make a lot of fans very happy by launching a Classics Series. Some of the exciting releases they have planned include 1950s and '60s Oscar winners From Here to Eternity, On the Waterfront, The Bridge on the River Kwai and Lawrence of Arabia; as well as later hits such as Close Encounters of the Third Kind, The Natural and A Passage to India.
The titles are being packaged to look like trade paperbacks, mastered from new film-to-tape transfers, complete with some exciting extras.
'The Bridge on the River Kwai', the first to reach stores, is the only one scheduled for distribution this year. As we've reported, it's release date is Nov. 21, and it will come in two configurations: a $39.95 double-disc set containing an hour-long 'making of' featurette and DVD-ROM materials; and a $24.95 single disc with trailers of other Columbia classics.
The studio lavished considerable expense on the new documentary, according to documentary director Laurent Bouzereau, who found great support for his quest to find and interview surviving members of the production team. 'The budget enabled me to do all that I wanted to do,' Bouzereau says. 'We want to remind young DVD viewers why these are great movies.' His travels took him to London and Spain, splitting the cost of research between the 'Bridge…' special edition and the documentary he's preparing for another in the classics series: 'Lawrence of Arabia'. Both films were directed by David Lean.
Not all of the classics will receive this kind of treatment. In cases where Columbia can't locate extra material, particularly for older titles, the studio will stick to a single disc.
Hey, we'll take them just the same…the chance to finally own many of these classics on DVD is enough to keep us very excited. In any case, keep checking in with us here at DVDReview, because we'll bring you the details on all of these as soon as we get them…