Columbia to release 'If Lucy Fell' on DVD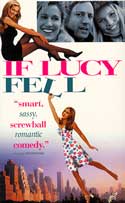 Columbia TriStar Home Video will release the romantic comedy If Lucy Fell (1996) on DVD this January.
Joe and Lucy are roommates and best friends. Lucy, whose love life is embarrassingly dull, convinces Joe, who is infatuated with a neighbor he's never met, that if they don't have stable romances within a month, they must jump off the Brooklyn Bridge. Heartbreak, poignancy and, of course, wackiness ensue.
Directed by Eric Schaeffer, the movie features the talents of Sarah Jessica Parker, Eric Schaeffer, Ben Stiller, Elle Macpherson, James Rebhorn, Robert John Burke, David Thornton, and William Sage.
The disc is will feature a 16×9 enhanced widescreen transfer of the movie as well as a Pan & Scan version. The soundtrack is Dolby ProLogic Surround. Subtitles are available in French, Portuguese, Thai, English, Chinese-Traditional, Korean, and Spanish. Extras include talent files of Ben Stiller, Eric Schaeffer, Elle MacPherson and Sarah Jessica Parker, and several trailers.
'If Lucy Fell' will be available on January 30th with a suggested retail price of $24.95.
Say…if Lucy fell in the forest and no one is there to hear, does she make a sound?