Catch an exclusive look at the special features of Gone In 60 Seconds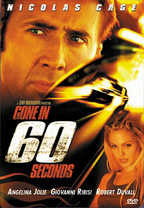 Are you interested in getting an early look at some of the cool extra footage that will be part of Buena Vista Home Entertainment's release of the Jerry Bruckheimer produced actioner Gone In 60 Seconds? If you are, and if you are a satellite TV viewer, you are in luck! Buena Vista Home Entertainment has just announced that they will give fans a sneak peek at the bonus footage on the DVD one week ahead of its release date via satellite.
Tomorrow, Tuesday, November 28 you can catch the programming between 9:00 am and 9:30 am Eastern Time, on Telstar 5, Transponder 5 C-Band.
"Gone In 60 Seconds," which will be released on December 5, is the story of a retired master car thief, who must come back to the industry and steal 50 cars with his crew in one night to save his brother's life.
The DVD will contain a number of Behind-the-scenes Featurettes about the breathtaking action-special effects in the film, as well as an Interview with producer Jerry Bruckheimer, and a Highlight Reel. The film's trailer and a music video will also be found on the disc.
Don't miss this chance to get an early glimpse at these special features tomorrow!