Buena Vista to re-release 'A Hard Day's Night' on DVD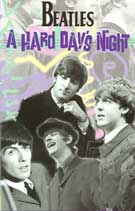 Those of you debating whether to lay down good money on EBay to try and score one of those rare DVDs of Richard Lester's A Hard Day's Night—WAIT!— Buena Vista Home Entertainment is getting ready to re-issue the disc this coming March.
In 1964, The Beatles had just recently exploded onto the American scene with their debut on The Ed Sullivan Show. The group's first feature, the Academy Award-nominated 'A Hard Day's Night,' offered fans their first peek into a day in the life of the Beatles and served to establish the Fab Four on the silver screen, as well as to inspire the music video format. Songs include: I'll Cry Instead, A Hard Day's Night, I Should've Known Better, Can't Buy Me Love, If I Fell, And I Love Her, I'm Happy Just to Dance with You, Ringo's Theme (This Boy), Tell Me Why, Don't Bother Me, I Wanna Be Your Man, All My Lovin', She Loves You. This wonderful film is still a fan favorite after all these years and one of the more highly prized of the out-of-print DVDs.
Unfortunately, we don't yet have any of the specifics on the disc (like whether it will include the 'extra 15 minutes' of footage recently added), but we can tell you that it is scheduled to hit the streets on March 20th, and it will have a suggested retail price of $29.99.