Brian De Palma's "The Untouchables" roars onto DVD in January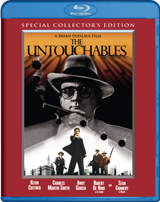 Fans of the highly charged gangster film, The Untouchables (1987) will be pleased to hear that Paramount Pictures Home Entertainment is getting ready to release the film to DVD this coming January.
Kevin Costner stars as Elliot Ness, the G-man who is after Al Capone (played with relish by Robert De Niro) in the wild and wooly Chicago of the 1930s. Under the guidance of Jim Malone, (Sean Connery–who won an Academy Award for Best Supporting Actor), Ness gets tough and sets out to clean up the city and take down Capone and his operations. He puts together a group of lawmen who become known as 'the Untouchables', and it becomes all out war.
Directed by Brian De Palma, the film boasts a terrific cast which includes Robert De Niro, Sean Connery, Kevin Costner, Andy Garcia, and Charles Martin Smith.
Paramount is preparing an anamorphic widescreen transfer for this disc, with a Dolby Digital 5.1 Surround soundtrack in English, and a Dolby ProLogic Surround track in French. As of now, no extras have been announced for the disc.
'The Untouchables' is scheduled for release on January 16th with a suggested retail price of $29.99.