'Bless the Child' creeps onto DVD in February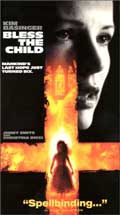 Paramount Home Entertainment is preparing to release the DVD of the Kim Basinger chiller Bless the Child for this February.
Following in the tradition of 'Rosemary's Baby', 'Bless the Child' is a supernatural thriller about a young girl who may hold the key to save mankind…or destroy it.
Directed by Chuck Russell, the film stars Kim Basinger, Christina Ricci, Jimmy Smits, Michael Gaston Eugene Lipinski, Rufus Sewell, and Angela Bettis.
Paramount will present 'Bless the Child' in an anamorphic widescreen transfer, with both Dolby Digital 5.1 and Dolby Pro Logic Surround audio. A French language Dolby Pro Logic soundtrack is also included. Bonus features on the disc include exclusive cast and crew interviews, an audio commentary by director Chuck Russell and visual effects supervisor Joel Hynek, and the film's theatrical trailer.
'Bless the Child' is scheduled for release on February 13. The suggested retail price will be $29.99.