Be ready for Valentine's Day with 'Prelude To A Kiss' on DVD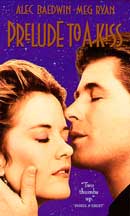 Fox Home Entertainment will get an early jump on Valentine's Day programming with the release of Prelude To A Kiss on DVD this January.
Newlyweds Peter and Rita find their promise to love each other forever is tested in a way they could never have imagined. Moments after they exchange wedding vows, an elderly man appears and asks if he may kiss the bride. Soon after, Peter realizes that his bride is no longer the girl he knew. Rita and the old man have somehow exchanged souls, and Peter must find him to get back the woman he loves.
Directed by Norman Rene, the film stars Alec Baldwin and Meg Ryan as the couple whose love is tested. The supporting cast includes Ned Beatty, Kathy Bates, Patty Duke, and Sydney Walker.
Fox is preparing an anamorphic widescreen transfer of the movie for this disc, letterboxed at the film's original aspect ratio of 1.85:1. Audio will be Dolby Digital 4.0 surround, with a ProLogic track available as well. Extras include a 'making of' featurette, and the film's trailer, as well as English and Spanish subtitles.
'Prelude to a Kiss' will be available on January 9th with a suggested retail price of $24.98.