"And Justice For All" will finally be served on DVD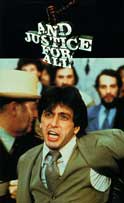 Columbia TriStar Home Video has just alerted us that they plan to release the Al Pacino vehicle And Justice For All to DVD in January.
Al Pacino portrays a hot-shot lawyer looking for justice in a legal system run amok. He uncovers some unsavory evidence while defending a powerful judge and must make some life-changing decisions regarding his own career and everything he's come to believe in.
The all star cast includes Al Pacino, Lee Strasberg, Jack Warden, John Forsythe, Christine Lahti and Craig T. Nelson, among many others. The film was nominated for both Best Actor and Best Screenplay at the 1980 Academy Awards.
The film will be presented both full screen and widescreen (no mention yet of anamorphic), with a Dolby Mono soundtrack. Extras include an audio commentary by director Norman Jewison, trailers, and talent files on almost everyone involved with the movie.
'And Justice For All' will be released on January 16th with a suggested retail price of $24.95.