Alfonse Arau takes you for a 'Walk In The Clouds'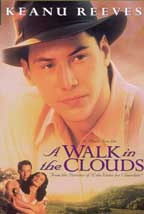 The folks at Fox Home Entertainment want to take you to new heights with their upcoming DVD, A Walk In The Clouds.
After returning home, a young GI has a chance encounter with the beautiful daughter of a vineyard owner. To help her face her domineering father, the soldier poses as her husband. When their passions for each other are ignited, they find themselves embarking on a romantic adventure as they overcome all odds to be together.
Directed by Alfonse Arau, the film stars Keanu Reeves, Aitana Sanchez-Gijon, Anthony Quinn, and Giancarlo Giannini.
The disc will contain an anamorphic widescreen transfer, letterboxed at the film's original aspect ratio of 1.85:1. Both Dolby Digital 5.1 surround, and Dolby ProLogic surround tracks are included in English, as well as a French soundtrack available in Dolby Prologic. Extras include a 'making of' featurette, and the film's trailer, as well as English and Spanish subtitles.
'A Walk In The Clouds' is scheduled for release on January 9th. It will have a suggested retail price of $24.98.