2 Albert Brooks gems: 'Real Life' & 'Mother' finally come to DVD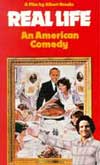 Fans of Albert Brooks (my hand is raised high as you read this) will be happy to hear that Paramount Pictures Home Entertainment is preparing both Real Life (1979) & Mother (1996) for release on DVD this coming February.
"Real Life" is the hysterical fictional-documentary that took a swipe at the then popular series "An American Family". The film stars Charles Grodin as the beleagured head-of the household trying to deal with the sudden invasion of his privacy as cameras follow him and his family through their daily lives.
"Mother" stars Debbie Reynolds and Albert Brooks as mother and son, with Brooks trying to come to grips with his and his mother's advancing age and their releationship.
We don't have complete details yet, but we do know that 'Real Life' will feature Dolby Digital Mono, English subtitles, a theatrical trailer, and a widescreen transfer enhanced for 16×9 TVs. 'Mother' offers the same features, but its audio will be presented in Dolby Digital 5.1 as well as Dolby Pro Logic Surround.
Paramount has scheduled both films for release on February 13th. No price has yet been announced.