You can get anything you want in Alice's Restaurant…including DVD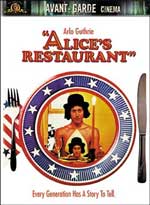 Here's something esoteric and tasty from the upcoming menu at MGM: Alice's Restaurant (1969) (Special Edition).
This one is a true cult film from the counter-culture of the 60s. Directed by Arthur (Bonnie & Clyde) Penn, we follow Arlo Guthrie's song as he is pursued by one member of the establishment after another for the heinous crime of dumping garbage into a ravine. His adventure escalates as he is taken to jail and eventually drafted into the army. Funny and satiric, the movie is also a time-capsule of the late 60s.
The movie stars Arlo Guthrie James Broderick, Patricia Quinn, as well as Pete Seeger.
MGM presents 'Alice's Restaurant' in a widescreen transfer, with both Spanish and French subtitles. Bonuses include an audio commentary and a trailer.
The scheduled release date for this disc is January 23rd, and it will carry a suggested retail price of $19.98.