Warner Brothers set to release The Replacements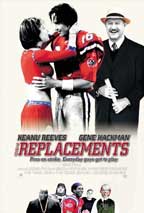 Warner Brothers Home Video has announced the imminent release of The Replacements (Special Edition) in November.
Described as 'a rough-and-fumble football comedy', this is the story of underdogs who get a shot at being top dogs when a motley array of blue-collar misfits fills in for striking pro-football millionaires. Wackiness, of course, ensues…
'The Replacements' was directed by Howard Deutch and stars Gene Hackman, Keanu Reeves, Jon Favreau, Brooke Langton, Rhys Ifans, and Orlando Jones.
The early word we have is that Warner Brothers plans a widescreen release, letterboxed at the film's original 1.85:1 aspect ratio. No mention of an anamorphic transfer yet. Audio will be a Dolby Digital 5.1 soundtrack. Extras will include: an audio commentary; the HBO First Look:'Making Of The Replacements'; Making The Plays: An Actor's Guide to Football; cast/crew biographies & career highlights.
The disc is scheduled to be released on November 28th. It will sport a suggested retail price of $24.98.