Think you're reading this headline alone?…think again! Hollow Man is coming!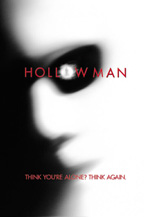 We've gotten word from Columbia TriStar Home Video that they're getting ready to release Hollow Man (Special Edition) to DVD in January.
What would you do if you were invisible? How far would you go? After years of experimentation, Dr. Sebastian Caine (Kevin Bacon), a brilliant, but arrogant and egotistical scientist working for the defense department, has successfully transformed mammals to an invisible state and brought them back to their original physical form. Determined to achieve the ultimate breakthrough, Caine instructs his team to move on to Phase III: human experimentation. Using himself as the first subject, the invisible Caine finds himself free to do the unthinkable. But Caine's experiment takes an unexpected turn when his team can't bring him back. As the days pass, he grows more and more out of control, doomed to a future without flesh as the Hollow Man.
Directed by Paul Verhoeven (Total Recall and Starship Troopers), 'Hollow Man' boasts an all star cast that includes Kevin Bacon, Elisabeth Shue, Josh Brolin, William Devane, Joey Slotnick, and Greg Grunberg.
Columbia is releasing the disc with an anamorphic widescreen transfer, with Dolby Digital 5.1 and Dolby 2-Channel surround audio. Bonus features include: audio commentary by Paul Verhoeven and Kevin Bacon, isolated music score with audio commentary by composer Jerry Goldsmith, 3 deleted scenes, 'Fleshing out the Hollow Man': featuring many behind-the-scenes featurettes, HBO 'making-of' Special: "Anatomy of a Thriller", picture in picture comparisons, talent files of Paul Verhoeven, Kevin Bacon, Elisabeth Shue, Josh Brolin, Joey Slotnick and William Devane, trailers, and DVD-ROM weblinks.
The disc is scheduled for release on January 2nd, with a suggested retail price of $24.95.
Seems like this will be one to look for. Take that straight line as a gift and run with it…