Take a terrifying journey into the mind of a killer in "The Cell"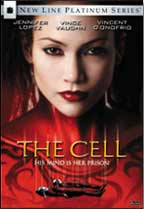 The good folks at New Line are preparing the DVD of the thriller The Cell (Special Edition) for release this December.
In order to save a life, she'll have to risk her own. Jennifer Lopez is a psychotherapist who takes a terrifying journey into the mind of a killer in the hopes of saving his latest victim in this chilling, critically acclaimed psychological thriller.
Directed by Tarsem Singh, the film stars Vincent D'Onofrio, Jennifer Lopez, Vince Vaughn, Dylan Baker, Jake Weber, Marianne, and Jean Baptiste.
New Line is preparing an enhanced widescreen transfer for this disc, letterboxed at 2.35:1. It will include Dolby Digital 5.1 audio, as well as a Dolby ProLogic surround track. The featured extras include 2 commentaries: one by the director, one by the production team, deleted footage, a 'making of' featurette, a special effects featurette, a look into the production design, as well as make-up & costumes, an isolated music score, the original screenplay, the international theatrical and teaser trailers, and a director profile. The DVD-ROM contents include a script to scene comparison and a game demo for 'Cataclysm'.
'The Cell' will be available on December 19th, and will have a suggested retail price of $24.98.
Man, films are making it to disc so fast these days that sometimes I'm not sure if I'm reading a release schedule or a movie timetable…