Sundance favorite "Saving Grace" is coming to DVD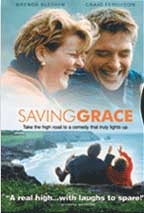 New Line is set to release Saving Grace, the winner of the Sundance Film Festival 2000 Audience Award, to DVD in December.
Two-time Oscar nominee Brenda Blethyn stars as Grace Trevethen, whose late husband jumped out of a plane without a parachute. Grace has been left with a manor on the Cornish Coast – and the massive, suffocating mountain of debt her husband had been secretly amassing. Now, with creditors and repossessors on her heels, Grace is faced with the prospect of losing everything. Desperate times call for desperate measures, so when Grace is asked to tend an ailing, if illicit, plant belonging to the manor's soon-to-be-sacked caretaker Matthew, she gets an outrageous idea. Why not use her renowned green thumb to make some serious money and pay off her debts? Taken with the idea, Grace and Matthew transform her orchid hothouse into a prodigiously lucrative enterprise of another kind. In spite of the old adage that crime never pays, Grace's situation comes barreling to a resolution in an adventure that inspires personal liberation and a delightful touch of romance.
The disc will feature an enhanced widescreen version of the film, as well as a pan and scan. Sound will be Dolby Digital 5.1. Bonuses include an audio commentary and a trailer.
'Saving Grace' is scheduled to be released on December 19th. It will carry a suggested retail price of $24.98.