Strap in tight for Dreamworks' Road Trip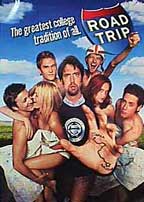 Tom Green fans—and we know who you are—get ready for some uncensored partying this December with the release of Road Trip.
Josh has a major problem –besides the fact that he's in college in Ithaca, N.Y., and his longtime girlfriend Tiffany is in Austin, Texas. A video of him en flagrante delicto with the luscious Beth (OK, the press release said "getting funky" but this is a family web site!) was mistakenly mailed to Tiffany, and now he has three days to get to Texas before the tape does.
'Road Trip' stars MTV's fatally hip comedian Tom Green, as well as many hot young talents such as Sean William Scott, Breckin Meyer and Amy Smart. Green brings his outrageous brand of humor to this raucous tale of four college buddies who party hardy on a Road Trip.
Produced by Ivan Reitman, the creator of the definitive college comedy Animal House, 'Road Trip' will be released in both a rated and unrated version. Like last year's release of American Pie, the unrated edition of 'Road Trip' comes complete with uncensored, never-before-seen footage from the movie's 'famed' shower scene.
We don't have details on sound and picture yet, but here's a rundown of some of the bonus features: seven deleted scenes labeled 'Road Kill,' a behind-the-scenes featurette hosted by Tom Green, an Eels music video featuring the movie's hit song 'Mr. E's Beautiful Blues', and interactive DVD-ROM elements like a 'Road Trip' game, where players attempt to travel from Ithaca, N.Y., to Austin, Texas by correctly answering trivia questions
The disc will take to the road on December 19th with a suggested retail price of $19.95.