PBS and Warners to release Deluxe Box Set of Ken Burns's Jazz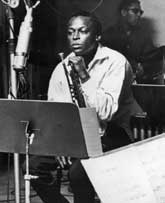 This January, PBS Home Video and Warner Home Video will release Jazz, the new work from filmmaker Ken Burns, as a Deluxe DVD Box Set.
'Jazz' is the final installment in Burns's trilogy on American life, which began with The Civil War and continued with Baseball. Over the years, Burns has become America's biographer on film; his works have won multiple awards and garnered record public television audiences.
'Jazz' tells the story of this singularly American art form with more than 75 interviews, 500 pieces of music, 2,400 stills and 2,000 archival film clips, many never-before-seen. The 18-hour epic is narrated by Keith David and features first-person quotes from Samuel L. Jackson, Matthew Broderick, Delroy Lindo and many others.
The film focuses on the careers of such giants as Louis Armstrong, Billie Holiday, Duke Ellington and Charlie Parker. The film is directed by Burns, produced by Lynn Novick and Burns and written by Geoffrey C. Ward.
Loaded with bonus features, the 10-DVD set will include exclusive, never-before-seen footage, as well as the 20-minute 'Making of Jazz' featurette, comprehensive background information on the more than 500 songs heard in the series, three full-length performances that will not seen on the PBS broadcast, and a DVD-ROM link to the 'Jazz' Web site.
The 'Jazz' Deluxe Boxed Set is scheduled for release on January 2nd, a week before the series is set to air (the show will be seen in 10 installments between January 8th and January 31st). The suggested retail price is $199.92.