Paramount brings The Virgin Suicides to DVD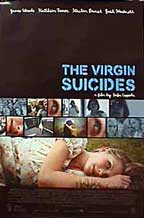 Paramount Pictures Home Entertainment is bringing Sofia Coppola's acclaimed The Virgin Suicides to DVD this December.
In 1970's suburbia lived the five beautiful Lisbon sisters, whose doomed fates indelibly marked the neighborhood boys who to this day continue to obsess over them. It is a story of love and repression, fantasy and terror, sex and death, memory and longing. Therese, Mary, Bonnie, Lux and Cecilia were everything desired and unattainable due to their parents' strict household rules. From afar, the boys watched the girls. Then, they witnessed something that would shake their souls: angelic Cecilia plummeting from her bedroom window. In the wake of Cecila's suicide, the Lisbons shut out the world. It seems they will never recover until Trip Fontaine begins to pursue Lux Lisbon. For one brief evening, four boys get as close to the Lisbon sisters as anyone has ever been. But when Lux and Trip get a little too close, events spiral out of control.
Directed by Sofia Coppola, the film stars Kathleen Turner, James Woods, Danny DeVito, Kirsten Dunst, Josh Hartnett, and Hanna Hall.
'The Virgin Suicides' will be presented in an anamorphic transfer with both Dolby Digital 5.1 and ProLogic surround tracks. Extras include a 'making of' featurette, 'Playground Love' music video, a trailer, and subtitles for the deaf and hard of hearing.
Paramount has scheduled the release date for December 19th. The suggested retail price will be $29.99.