New Line offers up Body Shots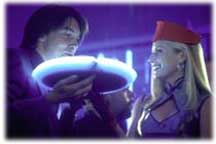 The folks at New Line Cinema are inviting audiences to do Body Shots this coming December.
By day, these 8 people are successful young professionals. When night hits, they're ready to let go and live out their fantasies. But, after one late evening of club-hoping and hard-partying, the passions of two people spin way out of control. In the morning all eight friends must face the consequences of what the real truth is, and who is telling it.
Directed by Michael Cristofer, 'Body Shots' stars the suddenly-everywhere-at-once Amanda Peet, as well as Jerry O'Connell, Sean Patrick Flanery, Ron Livingston, Tara Reid, and Emily Procter.
The disc will contain both an anamorphic transfer, letterboxed at 1.85:1, as well as a Pan & Scan version. We don't yet have details about sound (we can assume at least a Dolby Digital 5.1 audio track) or extras, except that there is a trailer. You'll read about it 2 minutes after we get the scoop.
New Line is scheduling the release for November 7th. It will have a suggested retail price of $24.98, and no cover charge or 2 drink minimum.