Miniature sets beware: Godzilla 2000 is coming to DVD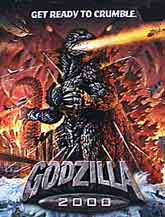 This seems to be the week of oversized reptilian beasts…
Columbia Tri-Star Home Video is bringing Godzilla 2000 to DVD in December (actually no one brings Godzilla anywhere…but he will be arriving).
Both an American and Japanese version of the disc will be available with the Japanese version featuring Japanese language only and the American version featuring English and French dubbing and English and French subtitles.
Both discs will be feature 16X9-enhanced widescreen transfers. Bonus features will include a commentary from editor Michael Mahoney, Supervising Sound Editor Darren Paskal and Sony Pictures Releasing Executive Michael Schlessinger on the English version, as well as behind-the-scenes special effects footage, theatrical trailers, bios (including one of Godzilla!) and production notes.
The discs are scheduled for release on December 26th. They'll carry a suggested retail price of $24.95.