Here are the details for The Nutty Professor II: The Klumps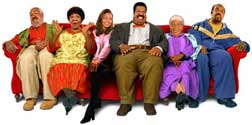 Yesterday we told you about the release of the DVD, The Nutty Professor II: The Klumps Collector's Edition from Universal Home Video. Well, as promised, here are the details, replete with hyperbolic synopsis and all:
America's funniest family is back for seconds! Eddie Murphy is hilarious in his multiple roles as the entire Klump family in this enormous comedy blockbuster. The hilarity begins when Professor Sherman Klump finds romance with fellow DNA specialist, Denise Gaines (Janet Jackson), and discovers a brilliant formula that reverses aging. But Sherman's thin and obnoxious alter ego, Buddy Love, wants out…and a big piece of the action. And when Buddy gets loose, things get seriously nutty. (You knew they had to get that one in, didn't you?) Now it's up to Mama, Papa, Ernie and Granny Klump to throw their weight around (and that one) and save the day!
Directed by Peter Segal, the movie stars, Eddie Murphy, Janet Jackson, Eddie Murphy, Larry Miller, Eddie Murphy, and Eddie Murphy.
'…The Klumps' DVD will feature a widescreen transfer in the film's original aspect ratio of 1.85:1, enhanced for 16×9 televisions. Both Dolby Digital and DTS audio tracks will be included on the disc (yea!). Bonuses include: deleted and extended scenes, outtakes, an audio commentary by director Peter Segal and an audio conversation with Segal and producer Brian Grazer, storyboards, Janet Jackson's "Doesn't Really Matter" music video, and interactive DVD-ROM components.
The release date is scheduled for December 5th, and it will carry a suggested retail price of $26.98.
Did we forget to mention Eddie Murphy?